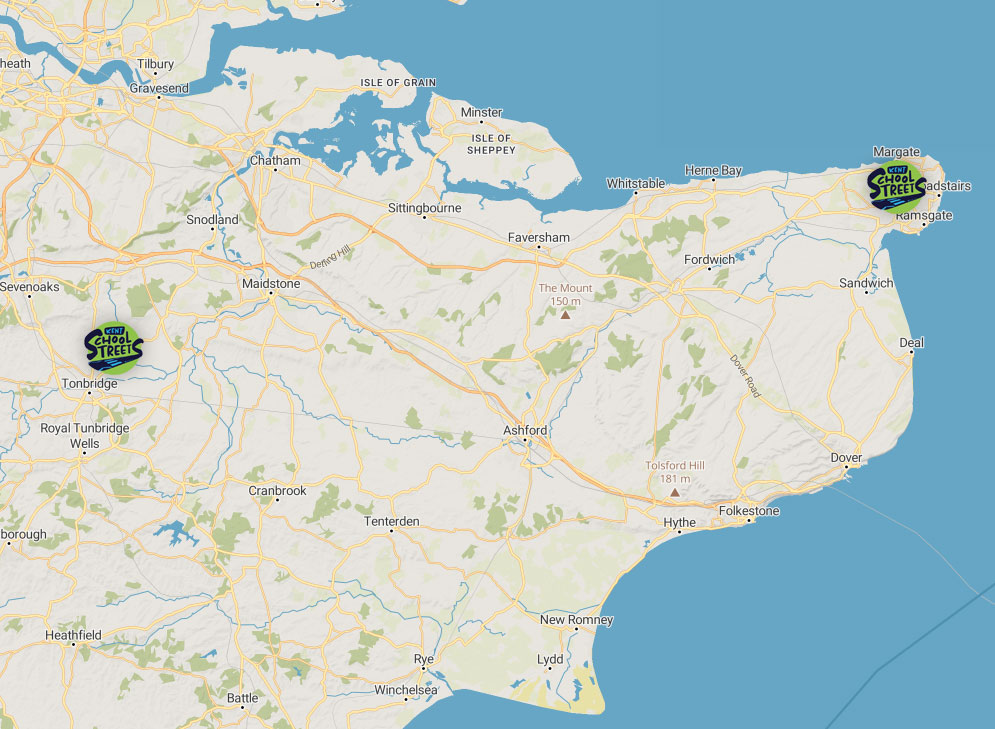 KCC acknowledges that there is a growing demand for School Streets schemes in Kent, in order to tackle issues such air pollution, irresponsible parking, congestion and road safety outside of our schools.
To this end, a School Streets Working Group was established to define and develop a sustainable School Streets Model that could be rolled out across Kent and be readily adopted by schools.
Currently, Kent has two School Streets schemes in place in Kent.
---
Southborough Church of England Primary School, Broomhill Park Road, Southborough.
In September 2021 a trial scheme was introduced to serve Southborough C of E Primary School. The scheme was under consultation until March 2022, at which point the feedback was overwhelmingly positive and the scheme was made permanent. A team of traffic management trained staff from Southborough Primary School monitor the barriers to ensure that residents, emergency services and local bus services are permitted access.
Headteacher, Mrs Savage says, "The implementation of KCC School streets has had a huge impact on our school. It has dramatically improved the safety of our children and families at the beginning and end of the day and it has also improved children's physical health, wellbeing and readiness for learning. The atmosphere and environment has changed significantly, from a risky, stressful, polluted one to a safe, relaxed and calm start to the day. We have seen activity levels increase too with more children walking and using bikes or scooters as it is safer to do so.
We have been overwhelmed by the support from our parents in introducing this scheme and their positive feedback. One parent commented 'This scheme has encouraged us all to walk, helps the environment, makes sure we get more exercise and fresh air as well as reduces the risk to our children'. Another noted 'it makes life so much easier, and my older children can be more independent in getting to and from school'. School Streets has also been popular with the children, particular highlights for them have involved feeling safer and increasing social opportunities with comments such as 'it's just great now as there's no traffic to dodge outside our school' and 'I like the fact I can walk more and chat with my friends and family '.  Many children even identified the family dog benefitting from the School Streets scheme by providing additional walking opportunities!"
Drapers Mills Primary Academy, St Peters Footpath, Margate.
This scheme was introduced on trial basis in July 2020 following the successful KCC bid for the Emergency Active Travel Funding. The School Streets scheme was welcomed by the school community as it has provided a safer, cleaner and healthier environment at the school gates. Drapers Mills Primary Academy were proactive in promoting the School Street and communicated with their parents and staff about travel options. A Park & Stride location, for example, was identified so that those who needed to use their vehicle could park a short distance from the school gates and then could make use of the Public Right of Way in order to walk, cycle or scoot, the final few minutes to school.
Headteacher, Mr J Manclark says, "The School Street is a fantastic initiative and has been well received by our school community. As well as creating a safer environment with less traffic, it has enabled the school to open a number of separate entrances which can now be used to access the school at drop off and collection times which allows parents to practice social distancing from each other and feel more confident about coming into school during the current pandemic.
More and more children are now cycling or using scooters to come to school and many are parking further away from school and walking that little bit extra, encouraging an active lifestyle."