About
Compaid provide transport services to hundreds of disabled and elderly people within Kent and the surrounding area every week.
Journeys vary from hospital and clinic visits to shopping expeditions and larger outings to the coast, local attractions and theatre trips. Compaid also provide a service for other charities, social services, health authorities and private organisations as necessary.
A fleet of wheelchair accessible minibuses operated by their team of dedicated and caring drivers, covers a wide area of Kent, Sussex, Surrey and Essex, although journeys much further afield can be arranged.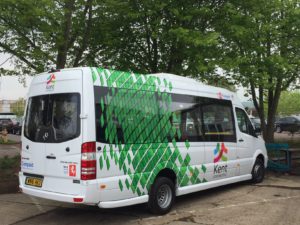 Compaid also operates the Kent Karrier accessible shopping service in Ashford, Maidstone, North West Kent, Tonbridge and Malling, Tunbridge Wells, Swale and Sevenoaks on behalf of Kent County Council. This service is for those who:
Have a mobility impairment or other medical condition that makes travelling on public transport difficult.
OR
Live in a rural area more than 500 meters away from a bus stop or railway station.
OR
Are 85+ (proof of age required)