Our recent SWITCH campaign asked commuters to make smarter travel choices by switching from the car to walking, cycling, car sharing or using public transport. Anyone who shared their pledge on social media using the hashtag #kentcommuteswitch was entered into a prize draw. Here are some of our lucky prize winners and their stories:
First up is David, who won the star prize of a Brompton bike
Can you tell us a bit about your journey to work?
I live in Canterbury and commute to Maidstone 4 or 5 days a week.
What was your usual method of travelling to work before SWITCH?
I normally drove all the way into Maidstone, parking close to work. Occasionally I would put my bike in the back of the car and park outside of Maidstone and cycle the last part of journey into town.
Can you tell me about your SWITCH pledge?
I pledged to increase how often I cycled the last part of my journey to work. I used to work closer to home and was able to cycle more regularly, and it was also more of a physically active role than the one I am in now. So I wanted to start cycling more to help keep fit and increase the amount of exercise I was doing during the week, rather than sitting at a desk all week and just going for rides at the weekends.
Since winning the Brompton, have you had an opportunity to use it for commuting?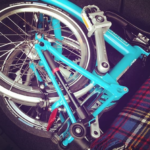 The Brompton has made it much easier to cycle as part of my commute and I have used it almost every day so far! It's fantastic, great to ride, and so much simpler and convenient to get in and out of the car than a full-sized bike. I'm already cycling more often than I pledged for the SWITCH campaign!
How did the SWITCH campaign  make a difference to the way you feel about travelling to work?
Cycling in the morning makes me feel more alert and productive at work and it's helping to keep me fit; I'm spending less of my commute sitting in traffic and I am instead enjoying pleasant cycles along the river into Maidstone. I will be doing my best to continue cycling to work as often as possible through the autumn and winter.
Kamila, a Patient Engagement Coordinator at the NHS, made the bold step of pledging to walk or cycle every day to work.
She won a £50 voucher to spend at Cotswold Outdoors.
"I had so much fun participating in this initiative. Being rewarded for my 'green' choices just means the world to me. I marked my posts with #kentcommuteswitch and #kmptproud as I'm inspired and encouraged by people that I work with to make healthier choices. I cannot wait to spend my voucher on either hiking shoes or a new backpack!"

And finally Katie, who won a £50 Amazon voucher for her pledge, reflects on her experience of walking to work:
"I think it's important to walk more for my own health and wellbeing – I find that the walk to work in the morning certainly wakes me up, and walking home in the evening helps me let go of the stresses of work. I load up my phone with podcasts and have an extra hour to myself each day where I can learn something new. I'm also conscious of the importance of reducing my environmental impact, as well as saving a bit of extra money each week. To be honest, when the weather is bad or it's school start time it's often not much slower to walk than it was to take the bus considering the whole door-to-door journey time.

Since walking, I definitely feel fitter and it's a really easy way to get in an extra bit of exercise that justifies the inevitable office treats! I can't see myself switching back from walking…even in the winter."
Did you pledge to switch your commute during our campaign earlier this year?
If so, how are you getting on? Drop us an email at kentconnected@kent.gov.uk — we'd love to hear and share your stories!